SwimAtlanta Wins Senior State Champs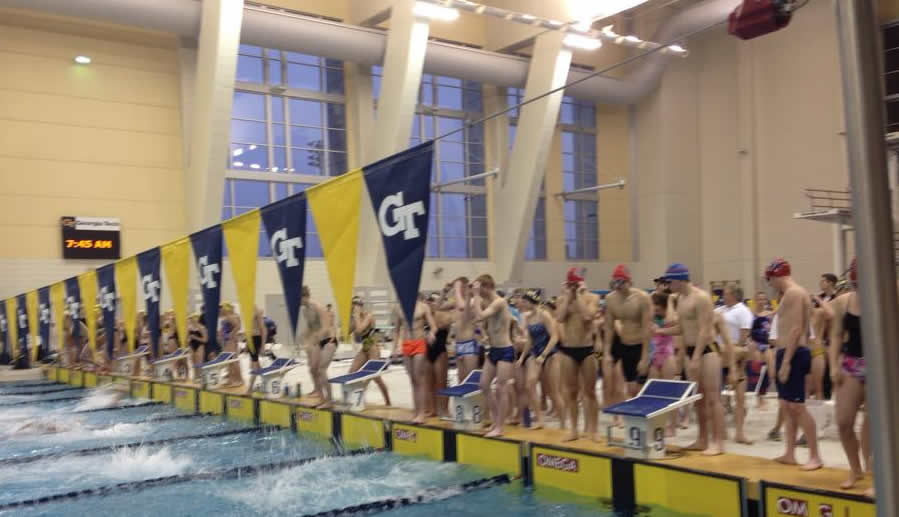 12/7 - SwimAtlanta defended its title at the Georgia Swimming Senior State Champs this weekend at Georgia Tech. Dynamo was second and GOLD was third. Marlins won the medium-sized teams division followed by SCAT, while MAAC won small teams followed by Lanier. Dynamo's Evie Bragg and GOLD's Alarii Levreault-Lopez (note correction) were the high point winners. Two records fell. Karl Krug from SA broke the 50 free record and the SwimAtlanta team of Krug, Thomas Nguyen, Joseph Portillo, and Reed Wynn broke the men's 400 Medley Relay state record.
---
12/1 - In an effort to maintain a high level of benefits and service to member clubs, USA Swimming is extending its negotiated rental car, van and SUV pricing with National Car Rental and Enterprise Rent-A-Car to all USA Swimming Member Clubs. This discounted rate is valid during USA Swimming sanctioned events, meets, practices or approved social events. Not only does this deal include a very good rental rate, but this negotiated pricing also includes full insurance
---
9/18 - USA Swimming today announced the qualifying time standards for the 2016 U.S. Olympic Team Trials – Swimming slated for Sunday, June 26, through Sunday, July 3, 2016, in Omaha, Nebraska, at the CenturyLink Center Omaha.

The eight-day competition serves as the sole qualifier for the pool swimmers on the U.S. Olympic Team for the 2016 Olympic Games in Rio de Janeiro, Brazil. 

"The announcement of the Olympic Trials qualifying standards is always an exciting time in every Olympic cycle," USA Swimming National Team Director Frank Busch said. "Thousands of swimmers across the United States now have the goal of achieving these times, and we wish them all the best in qualifying to chase their Olympic dreams in Omaha in 2016."

Across the board, the 2016 Olympic Trials qualifying standards are about 1 percent faster than in 2012. For more details on how the criteria were determined, visit usaswimming.org for an exclusive Q&A with USA Swimming Performance Database Director Larry Herr.
---
9/13 - Last night at the American Swim Coaches Association Banquet in Jacksonville, Dynamo's Beth Winkowski was named Age Group Coach of the Year. Beth is the first recipient of this award which is selected by a panel of top age group coaches. Also in the last week a number of Georgia athletes were recognized by being named to various end of season teams and lists. ABSC's Hali Flickinger, Olivia Smoliga, Ashley Vreeland and Nic Fink and Dynamo's Gunnar Bentz and Jay Litherland were named to the US National Team. Meanwhile GOLD's Lauren Case and DYNA's Kylie Stewart, Knox Aurbach and Michael Taylor were named to the National Junior Team. And finally, Georgia Swimming had 30+ athletes qualified for the Scholastic All-American list. Congratulations swimmers and coaches!
National Team Roster
National Junior Team Roster
2014 Scholastic All-American List
---
9/7 -Georgia Swimming set its fall summer 2015 schedule and adopted the 2015 budget at its LSC Fall meeting today. The Age Group State meet will be at Ga Tech July 16-19 with the same standards as this year while the Sr Champs will be at UGA July 23-26 moving to a 3 1/2 day format. Standards for that may will be reviewed after the USAS convention next week. A new budget was adopted that included funding for a new LSC Administrative Director. Hiring for that position will begin this fall.
Long Course 2015 Meet Schedule
Budget | HOD Minutes
BOD Minutes | Tech Planning Minutes
---